• South Headquarters for CSOB (bank) - SHQ
Projects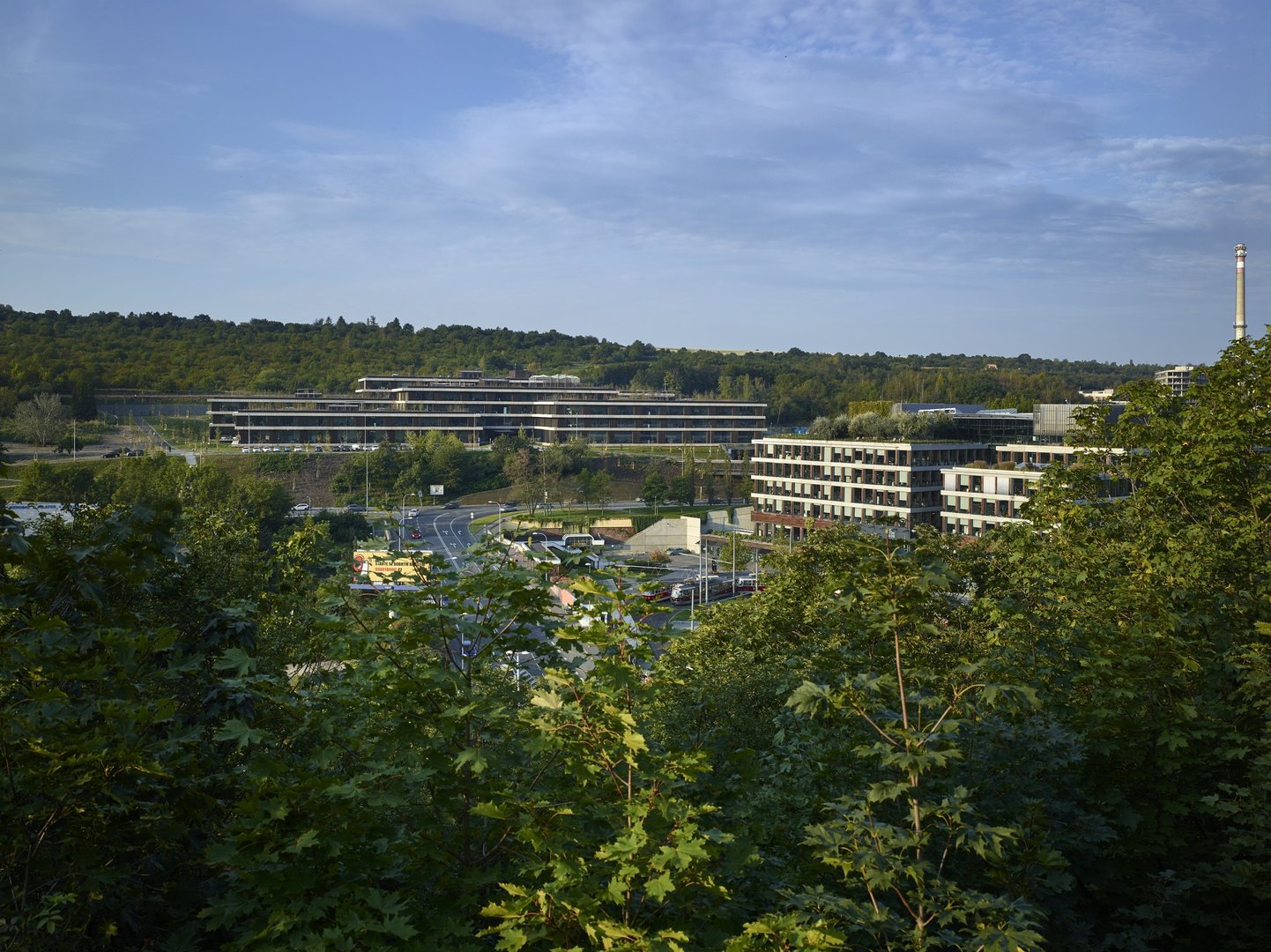 Due to its imaginative articulation into seven interconnected pavilions, the new SHQ CSOB headquarters for 1,400 employees and 300 trainees located on the slopes in Prague-Radlice looks almost inconspicuously. It can be partly attributed to its green roofs that visually integrate the building into the green slope.
Thanks to the designer's complex, integrated approach to the design, the building was certified LEED Platinum, ranking among 6-8 best-built projects in Europe. Compared with the LEED reference project, the SHQ CSOB headquarters' power consumption is approximately 60% lower, which allowed it to cover all its heat and cool needs by drilled boreholes.
The building utilizes all reasonably applicable elements (radiant ceilings, night ventilation including possible natural ventilation at daytime, controlled lighting and MEP according to room occupancy and similar) to ensure a healthy environment for all employees.
The project documentation was generated from the IMS (Building Information Model) developed employing the BIM method; it is also used to manage and operate the building; The SHQ ČSOB building was awarded the title Build of the Year 2019 for the scope of used BIM technologies.
The project SHQ – new CSOB headquarters in Prague 5 won among the new office centres due to its comprehensive design for KBC Group companies strongly emphasizing environmental qualities for employees, the connection to the existing CSOB headquarters and, last but not least, ecological solutions and delicate positioning of the building into the surroundings.
Relation to the project
Complex project documentation in all its stages including engineering services.
Architects
Ing. arch. Marek Chalupa, Ing. arch. Štěpán Chalupa
Investor
Radlice Rozvojová, a.s.
Awards
Winner of the Best Realty 2020 in the category New Office Centres'
Awarded a Special Mention 'Environmentally Sustainable Project of the Year'
Certified LEED Platinum
Awarded a Special Mention in the contest Adapterra Awards in the category Working Environment
Awarded in the BIM category for the used scope of BIM technology in the competition Build of the Year 2019
Nominated for the title Build of the Year 2019

BIM model 3D